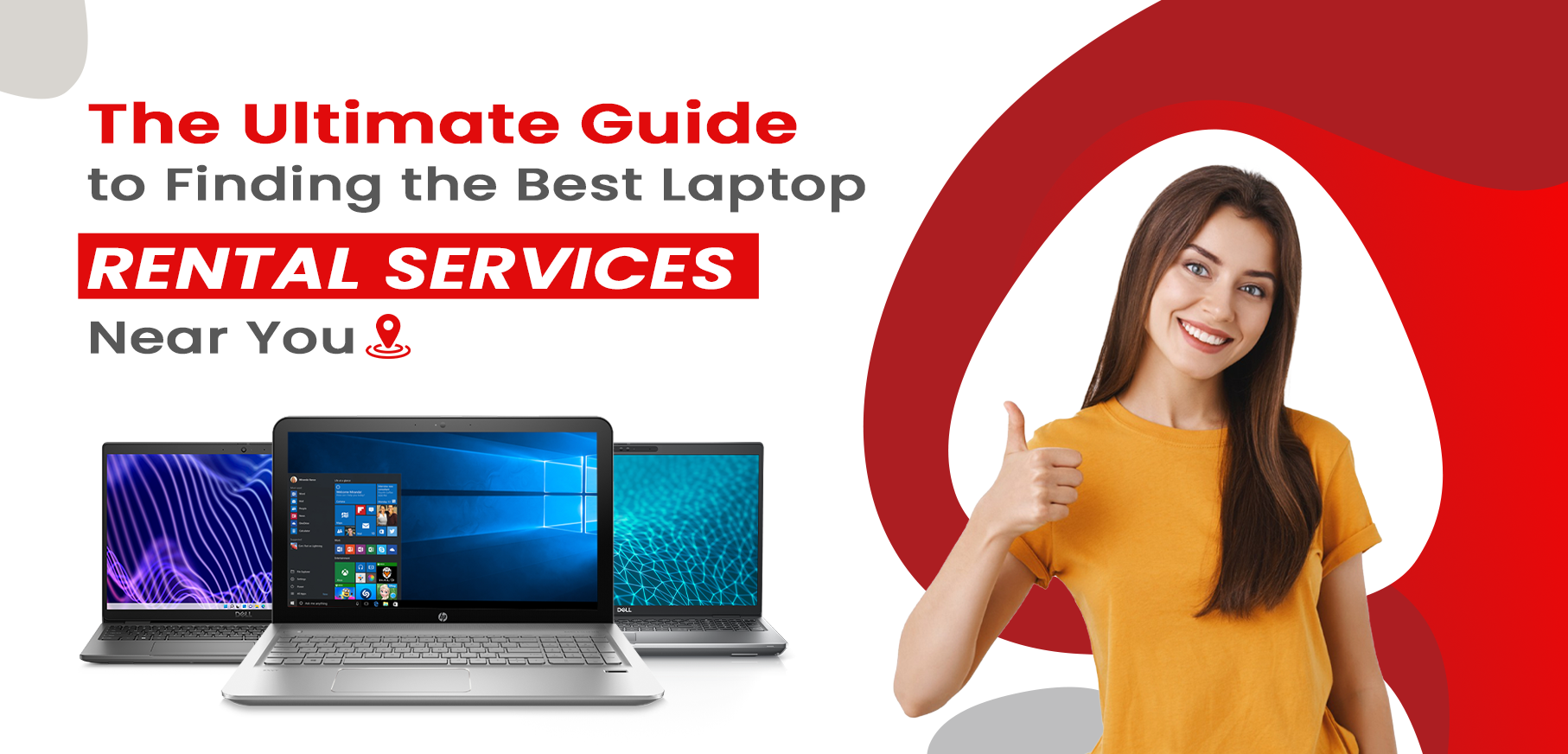 As a business owner or manager, hiring laptops on rent is one of the most important investments you can make in technology. Whether it's for your employees to complete their work tasks efficiently or to showcase products and services at events, having access to quality laptops is essential. However, due to budget constraints, purchasing new laptops for short-term use may not always be feasible. This is where laptop rental services come into play.
If you're looking for the best laptop rental service near you but aren't sure where to start, don't worry! Our ultimate guide to finding the best laptop rental services near you has got you covered. In this comprehensive guide, we'll explore everything from why renting laptops makes sense for your business and what factors should be considered when selecting a vendor.
Whether you need laptops for training sessions, conferences or expos – we'll dig deeper into each industry's needs so that choosing the right laptop rental company becomes an easier decision than ever before. We also discuss how much it might cost on average, depending on which provider you choose – ensuring that all bases are covered.
So buckle up – let's dive in and discover the ultimate guide on how to rent a laptop according to your needs and budget.
What are Laptop Rental Services?
Laptop rental services offer computers on rent temporarily, starting from several hours to weeks or months, based upon customers' varying needs. Often businesses use them for their events & meetings where they require technology but don't want long-term investments in purchasing gadgets.
Pros of Renting Laptops:
1) Financial Benefits– Instead of making permanent investments by buying expensive gadgets, one can save more money by renting the same gadget as per their requirements.
2) Latest Configuration- Finding and buying new updated models can be time-consuming and sometimes might not fit into budgetary constraints for everyone. However, through renting laptops, one gets access to the latest configurations that suit his/her computing needs.
3) Convenience – Hiring a laptop on rent allows freedom around customization options as well as flexibility regarding usage duration within specific dates determined priorly.
4) Time-saving – This eliminates all difficulties associated with setting up devices before any event starts enhancing flexibility due to shortened lead time when networking issues or technical problems arise during planned usage.
How Do You Choose the Best Laptop Rental Services?
With so many companies offering laptop rental services nearby nowadays, selecting a reliable provider may seem daunting at first glance. That's why we've put together some essential factors below, which should help ease concerns when choosing between service providers from various locations worldwide!
1. Experience
When hiring laptops to rent for your business or personal need, consider choosing laptop rental services that have been operating in the market for years. The chances of them having experience dealing with complex requests increase significantly.
2. Quality
Choose providers who offer quality laptops on rent that are always updated and well-maintained to avoid any possible trouble during working hours.
3. Customer Service
Opt for a provider that offers high-quality customer service; you want someone at hand when something goes wrong or if you need assistance in any way while using their equipment!
4. Cost/ Price
When choosing between several companies offering similar laptop rental services, compare prices properly to know which offers the best value for money deal matching your budgetary constraints.
5. Location Proximity
Finding nearby laptop rental services can streamline delivery and reduce lead times. This proximity allows for faster transportation times, ultimately improving overall delivery timelines and resulting in a significant increase in customer satisfaction levels.
6. Flexibility plays an important role
Choose laptop rental services that offer flexible options to meet your specific requirements. By providing rental agreements that match various dates and durations, these services eliminate the stress of device availability or other concerns associated with renting.
Instead, they compensate for any such worries by offering multiple usage alternatives based on your needs. This allows you to optimize priority while reducing commitments concerning funding-related resources.
Also, consider warranties provided by these laptop rental services, which ensure the value of expensive systems is maintained throughout their temporary use. When managed correctly, this provides peace of mind as it minimizes risk related to data loss or cybersecurity threats. Opting for certain configurations can also better protect against issues like malware infections or system failure – otherwise unaccounted for so far.
With all these benefits in one package from reliable laptop rental service providers, there's no need to worry about being left behind during your next big project involving laptops temporarily rented!
Importance of Choosing the Right Laptop Rental Service
Overall, choosing the right laptop rental service is essential for maintaining smooth business operations, particularly in uncertain situations such as travel requirements or short-term high-stakes events that require reliable technological support.
Meeting critical task completion deadlines and upholding global standards constantly challenges businesses and organizations across all industry verticals, including large corporations, small enterprises, startups, and entrepreneurs. In these instances where difficulties arise due to equipment shortages or technical glitches, laptop rental solutions offer successful remedies upon which clients can rely for prompt support provisioning.
Where to Rent High-Quality Laptops?
Now that you understand the importance of renting a laptop, you may be wondering where to find high-quality laptops for rent near you. So if you are in need of a high-quality laptop but don't want to commit to buying one, contact Truetech Services for all your laptop rental needs! Our customer-driven services provide flexible deals and easy access to top brands such as Apple, Lenovo, Dell, HP and more.
With our extensive coverage across the nation and even abroad, we offer affordable prices for both short-term and long-term rentals. And with reliable customer support always available during your renting period, you can trust TrueTech Services to provide convenient solutions for your business or personal use. Don't settle for less; choose TrueTech Services today for hassle-free laptop rentals that meet all of your needs!