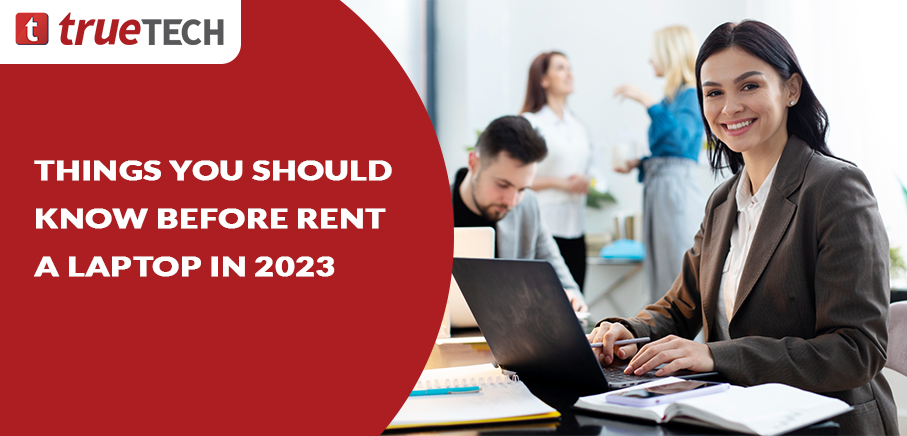 Are you planning to rent a laptop in 2023? Whether you are looking to hire a laptop on rent for personal or professional use, there are certain considerations you need to keep in mind before making a decision. With technology advancing at an unprecedented pace, the world of laptops is also evolving rapidly. This means that what worked five years ago may not work today.
Before you rent a laptop in 2023, consider your specific needs and how they align with the latest trends and models available on the market. Determine if you require high-quality graphic design software or simply basic features like internet connectivity and word processing capabilities.
Also, make sure to research rental policies from different vendors so that you can take advantage of cost-saving opportunities while ensuring optimal performance standards. When you rent a laptop, the rental cost may vary substantially depending on factors such as duration of use and maintenance requirements.
To help guide your decision-making process, Truetech compiled this comprehensive blog outlining some vital things you should know before renting a laptop in 2023. By staying informed about current technological advancements and best industry practices when it comes to leasing technology devices like laptops, you'll be well-equipped to make an informed choice that satisfies all your computing needs!
Identify your requirements
So you are considering hiring a laptop on rent? Don't rush, the first step is always crucial if you want your plan to be successful. You need to identify what exactly you need from a laptop rental– specific software or programs, perhaps. Check if the laptop can support them with its minimum system requirements.
Another important factor is quantity. Do you just need one? Think wisely and consider checking out for multiple laptops on rental services, especially for corporate events wherein several workstations require powerful gadgets.
After finalizing all these things, ensure that charging and working efficiency won't give any problems regarding ideal scenarios. Knowing all these will help you make the right choice without regretting anything later on.
Choose the right model
Do you want to get the most out of a laptop rental company or laptop rental service? So before you make a decision, it is important to know the specific model that will best suit your needs. Technical details like Random Access Memory (RAM) and screen size are crucial for ensuring that you rent a machine with the processing power and display capabilities required for your tasks.
Moreover, before renting a laptop, consider where and how you will use it, as this can greatly affect your choice of the device. For outdoor or well-lit environments, choose laptops with bright displays, while those who plan on using accessories should opt for machines with either HDMI or USB ports.
While these features may drive up costs when purchasing new equipment outright, they can be acquired at a fraction of their original prices through renting services. Renting offers an affordable alternative to buying costly gadgets, which may become obsolete after short periods of time due to rapid advancements in technology. By leveraging such rental opportunities, one can save money while still accessing high-quality devices suited to their individual needs.
Check Online Reviews
It is highly recommended that you conduct thorough research before renting a laptop. This involves checking online reviews of the laptop and also evaluating the provider's reputation to ensure they are a trustworthy company.
Online reviews can provide valuable insight into the performance, functionality and reliability of a particular laptop model. Furthermore, this information can indicate whether or not it would be suitable for your particular needs. It is important to note that you should read multiple reviews from various sources to understand the product accurately.
In addition to reading about the laptop itself, it's equally important to consider the reputation of the rental company. Check customer feedback on their website or on reputable review platforms like Google Reviews. This should give an overview of customers who have had positive experiences with them in terms of timely delivery, supportive customer service and fair pricing.
Overall investing some time researching laptops and their providers will pay off when you find yourself leasing high-quality equipment at cost-effective prices without any unpleasant surprises down the road!
Understand the rental terms and conditions
When you're searching for a laptop rental service, it's important to know that they typically offer different rental terms for varying durations. In general, longer rental periods come at a lower cost per day than shorter ones. This means that if you need to rent a laptop for an extended period, it's worth negotiating with the provider to secure the most cost-effective deal possible.
To get the best value out of your laptop rental, you need to explore multiple options and compare their prices and conditions carefully. Don't be afraid to ask questions about everything from device specification and technical support services to delivery times and return policies. A good provider should be willing to assist you in finding the right solution based on your specific needs.
Remember that laptops are essential tools for work or study in today's digital world, so getting a reliable one is critical regardless of whether you're renting or buying. By doing thorough research beforehand and choosing an efficient supplier who can provide adequate support along the way, you'll ensure that your laptop rental experience will go smoothly without any frustrating delays or inconveniences.
Customer support is important
When choosing a laptop rental company, it's not just about the initial sale. It's important to consider what your experience will be like after you've received the product. A great way to ensure a positive experience is by finding a reputable laptop rental service that will not only deliver the laptop right to your door but also set it up for you.
Another crucial factor to consider is whether or not the rental business offers system upgrades and assistance with any technical issues that may arise during your rental period. This additional customer support can save customers time and money by helping them avoid common technology pitfalls.
Overall, considering all aspects of a laptop rental provider – even beyond initial sales – ensures an enjoyable renting experience where customers feel supported at every stage.
Where to rent a laptop?
If you need to hire laptops on rent for commercial or personal use, simply contact Truetech. Truetech can provide high-quality laptops on rent suitable for both short-term and long-term use. We offer top-quality laptops on rent from leading brands such as Dell, HP, Lenovo, Apple, and more, according to yor budget.
All the rental laptops are fully configured with the latest software and hardware to ensure optimal performance. Upon renting from Truetech, customers receive a custom software installation and configuration tailored to their specific requirements.
The company understands that flexibility is key when it comes to business operations; therefore, we offer flexible laptop rental services that include weekly and monthly rentals. Truetech's customer service team provides personalized service to ensure seamless rental experiences without stress.