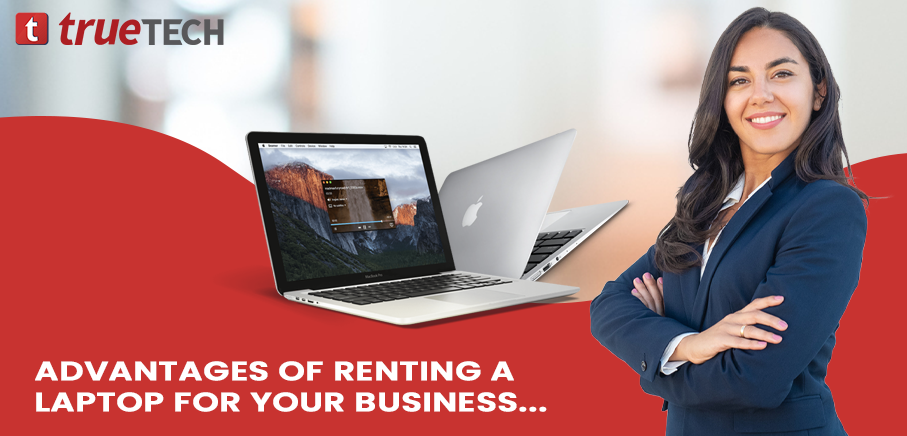 Due to the current market demands, numerous companies need high-end laptops on rent with varying specifications and features. These latest-generation laptops can provide businesses with exceptional services at an economical price – vital in achieving the main objective of maximizing profits while reducing operating costs.
The cost incurred from constantly upgrading old laptops to keep up with advancing technology can be detrimental to any business. Startups, SMEs, and large corporations should consider opting for reliable and professional laptop rental services instead. 
In today's fiercely competitive markets across various industries, having access to cutting-edge equipment is important. Renting a laptop for your business provides several benefits that cannot be overlooked. In this blog, we are going to discuss numerous benefits of why you should rent a laptop for your business and also provide you with guidance on where you can rent a laptop at affordable prices.
A wide range of options is available
Opting for high-performing laptops on rent for your business offers an array of options, allowing you to select a laptop that fits your needs and preferences. When you are looking for a laptop on rent, it's important to consider various factors such as battery life, CPU, screen quality, RAM, and ROM. Depending on the features and specifications you prefer – whether it's an i7, i5, or i3 processor; the rental cost might differ accordingly. Renting a great laptop could help fulfill both your business' and customers' requirements.
Renting a laptop is cost saving
Entrepreneurs always look for ways to increase profits and reduce expenses. Running a business involves significant upfront costs, which means that any opportunity to minimize losses and enhance savings should be explored. Cutting down expenses can significantly contribute to the growth of both small and large businesses.
The specific requirements regarding laptop configurations vary from one company to another. For instance, web designers may need high-end technology laptops with top-notch features. However, these laptops can be quite expensive; investing in them might not be financially feasible for most people. Currently, MacBooks have an excellent reputation among business owners, but purchasing such expensive equipment is not recommended- especially for startups.
Fortunately, renting laptops with high performance at affordable rates is a practical alternative for entrepreneurs to take advantage of while pursuing their goals!
Where to hire a laptop on rent
If you are looking for a high-quality laptop on rent, simply contact Truetech. Truetech is the go-to for renting laptops. Our rental services offer top-notch laptops suited to your commercial needs, whether short-term or long-term use. Rent in bulk and experience quality like never before with Truetech's provision of superior computer systems on the market.
We offer a large selection of laptops on rent at Truetech from well-known brands like Lenovo, HP, Dell, Apple, and more- with options that cater to all budgets. Our rental laptops at Truetech are also fully equipped with top-of-the-line software and hardware to ensure optimized performance. Additionally, we provide personalized software installation as well as system configuration based on your preferences when you rent any device from us.
Evolving Technology
Utilizing the latest generation of laptops can expedite complex tasks in a relatively short time frame. This can help one thrive within their respective field by offering effective solutions to various challenges while meeting client demands to gain a competitive edge. Opting for a high-end laptop on rent is an efficient way to update and advance work progress with the latest technology constantly.
Embracing innovative technology can set businesses apart and consequently drive up sales. In cases of financial constraints, renting laptops remains a viable option. This provides access to current models that enhance productivity while effectively managing time – a crucial aspect for achieving production goals. Purchasing new equipment and investing in upgraded technology may not always be practical strategies as it involves considerable costs compared to rental services available today.
Optimize your Office Space with Laptop Rentals
Limited office space can be a challenge for many small and medium-sized businesses. Storing multiple laptops, IT equipment, and other essential accessories can quickly consume valuable workspace needed to enhance productivity. A conducive office environment is vital for optimal performance.
Consider renting laptops instead of purchasing laptops to reduce office clutter and create a productive working space. Your storage space should be considered an asset since it requires money to set up and maintain it. An unnecessary asset can become a long-term liability with additional expenses for maintenance. Optimize your limited office space by utilizing laptop rentals to improve production efficiency in the workplace.
Evaluate a Laptop Before You Buy
As technology advances, electronic devices like laptops undergo frequent upgrades. Purchasing the latest model without first testing it can result in regrets later. That's why it's essential to try a laptop before investing in it. You may want to consider renting from a reliable rental company so you can determine if the device meets your needs.
Test-driving the laptop during an actual work situation is invaluable for making an informed decision. Renting beforehand is particularly useful if you're searching for functionalities that can boost your business productivity. With this approach, trying out multiple laptops before settling on one could save you time and money down the line.
Increased Adaptability
In today's business landscape, companies are increasingly embracing a mobile workforce. The number of professionals utilizing shared workspaces, coffee houses, eateries, and even home offices is rising. Furthermore, employees' daily movements may take them from one place to another. By fostering greater flexibility in your team, you can encourage more innovation and ingenuity.
To accomplish this goal, consider hiring laptops on rent that can enable staff to access crucial company resources at any time or location – boosting overall productivity levels across the board.
Renting a laptop offers the convenience
Hiring laptops on rent is an excellent way to save time and money hassle-free. If you're putting together a conference or event, renting offers the convenience of avoiding searching for a reliable laptop. Purchasing a laptop requires both valuable time and cash, as there are countless types on the market. Opting for rental laptops frees up your focus to prioritize lucrative ventures that can benefit your business.
Free Maintenance
Maintenance is a service that many laptop rental companies like Truetech provide without any additional cost. Keeping up with maintenance for some robust laptops can be rather costly on your own, but when you rent a laptop from Truetech, we will handle repairs and upgrades to ensure optimal performance tailored to your specific needs. Additionally, renting a laptop serves as an excellent option for those who require temporary use, particularly when requiring high-end technology to tackle complicated projects.
Opting to rent a laptop for your business is an effective strategy for curbing operational expenses. Laptop rental services offer several advantages, such as cost-effectiveness, releasing precious storage and office space, adaptability, and access to cutting-edge technology. Utilizing a top-of-the-line laptop can also help expedite business growth.